The Colwyn Special
54" micro marble complete fireplace in beige stone.
Was £1020 now in our seasonal offer £499.00
Only one available!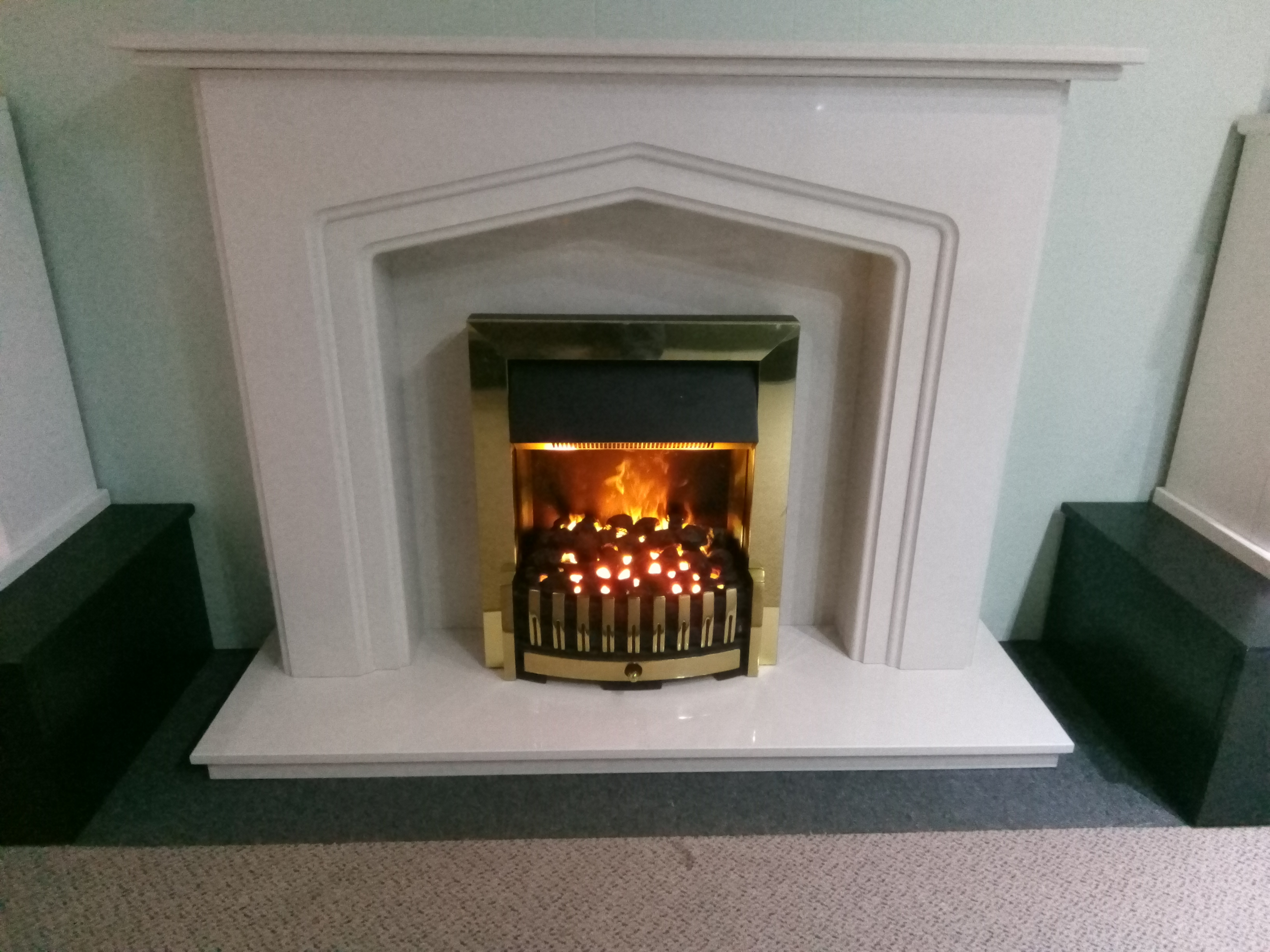 Winter Special
Beat the freeze with a new Gas Fire
Installed & Certificated for
£695.00
Paragon One Natural Gas Fire with Slide Control.
Choice of Elite Fascia Chrome, Satin Chrome or Brass
5 Year Parts Warranty
Heat output 3.5kW, efficiency 56%
Terms & Conditions
You must haver a suitable chimney Class 1 or Class 2 which is sound and free from obstructions and comply with the current building regulations.
You must have an adequate natural gas supply within 300mm of your intended installation position.
You must have a suitable hearth, back panel and surround.
You must live within 25 miles of our showroom/store in Mochdre otherwise we reserve the right to make a minimal charge of £20.00 to allow for travelling time and file for our installers. Maximum distance is 45 miles.
Introductory Offer – Until 31/01/20
Save £100 on this Stove at the introductory offer price of £1099.00 until 31/10/19
FEATURES
Natural gas, Conventional Flue
Battery powered ignition (no need for electrical connection)
Hand-held safety remote control as standard
Adjustable heat output and flame height
Clear view glass screen
Top flue fitting 127mm (5″)
Lifetime guarantee on the stove body
Nett Efficiency of 83%, Heat Output up to 5.2kW
Why Choose Colwyn Fireplace Centre?
Pairing unrivalled experience with modern solutions
As we have mentioned previously, we are a family run business and this is clear from the moment you walk into our showroom. Our friendly, highly trained and experienced staff are readily available to give you help and advice before, during and after the purchase.
We pride ourselves on our service and knowledge of the industry, whether you're searching for advice on the fireplace that best compliments your interior design or if you want to know whether gas or electric is best for your needs, then we are here to help. This continuous strive for excellence is why we are North Wales' No.1 choice for fires, fireplaces, stoves and electric radiators.
TESTIMONIALS
We visited Colwyn Fireplace Centre with an open mind and with only a vague idea about what we required to install in three old fireplaces in the main Portmeirion Hotel during a planned maintenance window scheduled for January 2010. It was important that not only did they have a practical use, but it was imperative that they fitted in with aesthetics of the Mirror Room, Library and Peacock Suite. Our first impression was the quite excellent and comprehensive range of items on display.
Lovely to be still able to receive a personal and highly professional service, knew exactly what was required in both appearance and heat output to match our requirements. We would have no hesitation in recommending Colwyn Fireplace & Stove Centre to all our friends.
From our very first visit to Colwyn Fireplace & Stove Centre's showroom, the highly knowledgeable staff knew exactly what we needed and guided us through the selection process to find our new fire and fireplace. We had a huge selection to choose from, but the staff at Colwyn Fireplace & Stove Centre explained in detail what we needed. The installation of our new fireplace and fire was again very professional and ran very smoothly. We would highly recommend Colwyn Fireplace & Stove Centre to anyone.
Leave your details and our 
Specialised Team

 will be in touch
Transform your space with one of our beautiful solutions.